Facilitation based on the French school of creativity and the CPS framework (Creative Problem Solving) from the Creative Education Foundation in the US.
From insights to actions: To interpret what consumers express and to derive actions from it accordingly is, in itself, an art form. We accompany our clients as they immerse themselves in the matter, whilst making sense of what they understand and helping them eventually to draw the appropriate conclusions. And you know what? We do not replace visionary and courageous marketing. We understand the limit of what we can deliver and encourage or even discourage the next steps.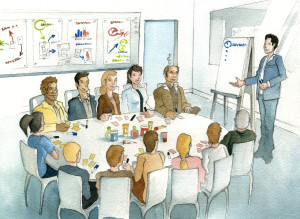 From challenges to visions: Do you want to think outside-of-the box and see into the future? Do you want to play out future scenarios and develop visions based on accurately validated assumptions? Then here we go. In a 1 or 2 day session, we take you on the journey to the place where dreams have contours, colours, shapes and a clear feel. Our sketch artist will make it tangible! And our beloved colleague, innovation booster, IdeaDJ and inspired speaker Ramon Vullings will take it to the next level.
From problems to smart questions: In the fields of innovation, R&D, fundamental and/or applied science, the teams have different academic backgrounds and needs. We take into account the mind set and help enlarge the thinking, beyond "rational", "true" and "feasible" answers. Interestingly enough, these customers don't directly expect answers to their problems. They are looking for new and better questions: questions posed so differently that they enable problems to be captured in a totally new manner. In this context, we benefit from a rare cooperation with the talented team of KnowInnovation.